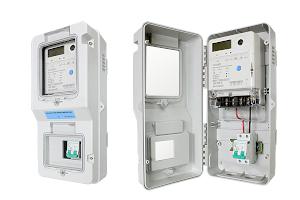 The CL754A single phase energy meter enclosure accommodates one bottom connected energy meter and one 1 Ph + N or 2 Ph circuit breaker. The enclosure is made of polycarbonate material with excellent electrical insulation, fire- and weather resistance. It is lightweight and small, shockproof, UV-and ageing resistant.
The meter box has two transparent windows, one for meter reading and one for circuit breaker operation.
The enclosure box has a tamper detection for opening and sealable windows. The installation is easy. On the bottom of the enclosure are two inlets for mains and customer load.
On request we can supply meter box and meter pre-wired.
Enclosure material polycarbonate +10 % glass fibre
Polycarbonate for the transparent windows
Two Pg cable glands on the bottom of the enclosure
Ingress protection: IP54
Sealable enclosure cover
Sealable windows
Enclosure cover open detection
Mechanical resistance: IK 09
Suitable for wall mounting and pole mounting
Two transparent windows for meter reading and circuit breaker operation
Optional: full transparent enclosure cover
Dimensions: 212 mm x 402 mm x 135 mm

---
Fill the form and get reply for this product to your email-inbox.