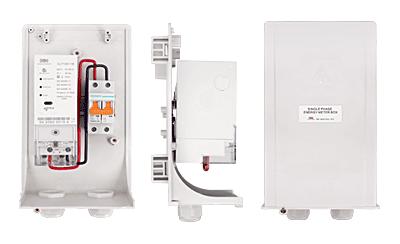 The CL754E single phase energy meter enclosure fits for one DIN-rail split type energy meter and one 1 Ph + N or 2 Ph circuit breaker.
The enclosure is made of polycarbonate material with excellent electrical insulating, flame resistance and weather resistance. It is lightweight and small, shockproof, UV resistant and anti-ageing.
The enclosure is designed with an anti-tamper switch, electrical safety protection and user separation control functions.
The cover is slided-in from the top after the meter installation is finished.
Enclosure material polycarbonate with 10 % glass fibre
Two Pg cable glands on the bottom of the enclosure
Ingress protection: IP 54
Sealable enclosure cover
Enclosure cover open detection
Mechanical resistance: IK 09
Suitable for wall mounting and pole mounting
Dimensions: 280 mm x 170 mm x 124 mm
---
Fill the form and get reply for this product to your email-inbox.