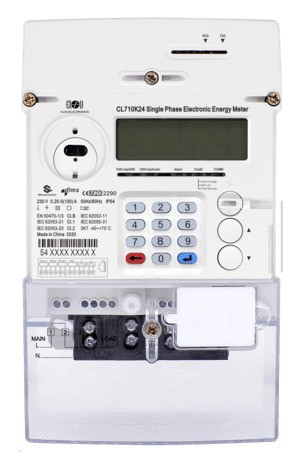 CL710K24 is a single phase multi-function smart meter with modular design. It's used for the accurate metering of commercial and residential customers.
It is built with full AMI features, supporting exchangeable plug-and-play modules with power line carrier (PLC), radio frequency (RF) and General Packet Radio Services (GPRS).
The communication with the meter is DLMS compliant.
CL710K24 can be used in STS prepayment mode or in post payment mode, with or without communication module.
| | |
| --- | --- |
| | IEC 62053-21 |
| | IEC 62053-23 |
| | CE MID approved |
| | STS certified |
| | G3-PLC approved |
| | DLMS compliant |
| | IDIS compliant |
Functions
Active energy measurement
Reactive energy measurement
Neutral current measurement
STS prepayment / post-payment mode switch
Prepayment Multi tariff (TOU, TOD)
Alarm notification
Remote firmware update
AMI integrate
Plug and Play module PLC/RF/2G/3G/4G
Standard P1 port (optional)
Sealable infrared port / RS485
LCD
Read without power
DLMS/COSEM compliant
Display scroll button
STS keypad (optional)
Maximum demand reset
Replaceable battery
Real time clock
Build in load control
Screw sealing
Tamper protection
Terminal cover open detection
Face cover open detection
Reverse current detection
Neutral current comparison
Magnetic tamper (optional)
Event logging
Disconnect on tamper
| Item | Parameter |
| --- | --- |
| Nominal voltage (Un) | 110 V, 120 V, 220 V, 230 V, 240 V |
| Voltage range for operation | 0.6 Un to 1.3 Un |
| Nominal frequency | 50 Hz/60 Hz ± 5 % |
| Nominal current (In) | 5 A |
| Maximum current | 60 A, 100 A |
| Starting current | 0.4 % In |
| Voltage circuit power consumption | ≤ 2 W, 10 VA |
| Current circuit power consumption | ≤ 4 VA |
| Display | LCD |
| Meter constant | 1000 imp/kWh, 1000 imp/kvarh |
| Operating temperature | -25 °C to 70 °C |
| Storage temperature | -40 °C to 70 °C |
| Humidity | ≤ 95 %, non-condensing |
| Accuracy class | Active energy class 1 or MID class B, reactive energy class 2 |
| Ingress protection | IP54 |
| Communication | Infrared port, RS-485, P1, MBus, optional exchangeable modules for PLC, RF and 2G/3G/4G |
| Dimensions | 228 mm x 140 mm x 78 mm |
| Connection type | BS (LNNL), symmetrical |
| Weight | 900 g |
---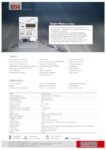 Fill the form and get this beautiful PDF link instantly to your email-inbox.
Title: CL710K24_V1_EN
file size: 178.88 KB
published: 16 Jun, 2023