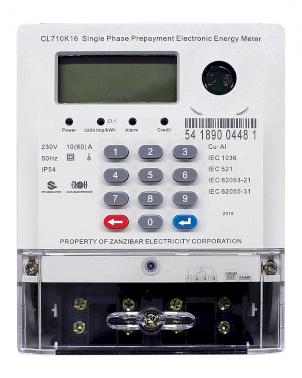 Introducing CL710K16 – the advanced multi-function single-phase smart meter with embedded communication. This advanced meter is designed to accurately measure electrical energy for both commercial and residential customers, making it a versatile solution for a wide range of applications. With its prepayment capability, CL710K16 is compliant with the STS (Standard Transfer Specification) standard, providing a secure and convenient way to manage energy usage.
| | |
| --- | --- |
| | IEC 62053-21 |
| | SICEM type test certified |
| | STS certified |
| | DLMS compliant |
One of the key features of CL710K16 is its seamless communication capabilities. With an optional external keypad (user interface unit UIU), communication can be established through power-line carrier (PLC), radio frequency (RF), or cable connection. This ensures flexible and efficient communication between the meter and the user interface, allowing for convenient access to energy consumption data and easy management of energy usage.
CL710K16 is a state-of-the-art smart meter that empowers both commercial and residential customers to monitor and manage their energy consumption accurately and effectively. Its embedded communication capabilities and compliance with the STS standard make it a reliable and secure choice for modern energy management.
Functions
Active energy measurement
Import- and export measurement
Real time clock
Multi tariff (TOU, TOD, Step tariff)
Maximum demand measurement (optional)
Replaceable battery
Pre/Postpaid mode switchable
Alarm notification
UIU by RF/cable (optional)
STS keypad
Tamper protection
Terminal cover open detection
Face cover open detection
Reverse current detection
Neutral current comparison
Magnetic tamper (optional)
Event logging
Disconnect on tamper (external contactor)
| Item | Parameter |
| --- | --- |
| Nominal voltage (Un) | 110 V, 120 V, 220 V, 230 V, 240 V |
| Voltage range for operation | 0.7 Un to 1.3 Un |
| Nominal frequency | 50 Hz, 60 Hz |
| Current | 5 (40) A, 5 (60) A, 5 (80) A |
| Display | LCD |
| Operating temperature | -25 °C to +70 °C |
| Humidity | < 95 % |
| Accuracy class | Active energy class 1 |
| Ingress protection | IP54 |
| Communication | Infrared port, RS-485, optional virtual token carrier, optional exchangeable modules for RF, PLC and 2G/3G/4G |
| Dimensions | 163 mm x 130 mm x 56 mm |
| Connection type | BS (LNNL) |
---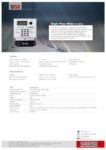 Fill the form and get this beautiful PDF link instantly to your email-inbox.
Title: CL710K16_V4_EN
file size: 157.97 KB
published: 16 Jun, 2023