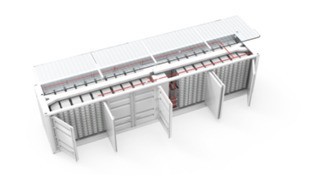 The CLC20-1000 is an energy storage container with air cooling. A modular compact battery rack is paired with independent air ducts and specialized industrial air conditioning.
Special lithium iron phosphate battery cells and high-safety battery modules are also included in the system. Its high energy density ensures dependable and efficient operation.
If you want a larger capacity storage container, click here for more information.
Functions
external PCS (power conversion system)
flexible configuration of system capacity and container size
the BMS (battery management system) meets functional safety requirements
non-step-in design
Specifications
Item
Parameter
Battery type
LFP (lithium iron phosphate)
Nominal power
1.0 MW
Nominal capacity
2.2 MWh
Nominal charge and discharge rate
(C-rate)
0.5 C
Operating temperature
-40 ℃ to +50 ℃
Altitude
< 3000 m (in altitudes above, the nominal power is decreasing)
Ingress protection
IP54
Fire extinguishing system
fire alarm,
gas extinguishing system
Dimensions
20-foot container
6.10 m long × 2.44 m wide × 2.59 m high
Fill the form and get reply for this product to your email-inbox.
Editor's note: This article was originally published in February 2022 and has been updated for comprehensiveness.