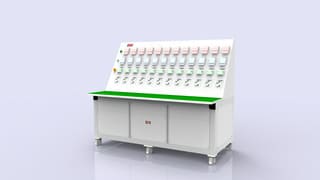 CL3250 HPLC (high frequency broadband power line communication) module test equipment, also HPLC communication unit test equipment, is applied for testing external structure of HPLC modules.
It can also be used for communication performance test, interchange and interconnectivity test, deepening application test of HPLC, power pack phase failure and voltage change test, power consumption test, power pack adaptability test, chip ID detection test and other tests.
It can test 48 communication modules at the same time.
The third party has tested and certificated this product, and CLOU has already supplied it in batch to local power grid companies and terminal factories.
The device meets the requirements of HPLC module tests from production manufacturers, metering centers and power science research institutes.
Features
Comprehensive tests
Applied for power consumption of HPLC modules, communication and other performance tests.
Automatic and effective
Each single equipment has many meter positions. Test for various modules at the same time is available.
After positioning all tested modules, the test is under unified control by software, which is simple and effective.
High compatibility
Each meter position is suitable for single-phase meters, three-phase meters and terminal modules.
Easy to use
Operating the equipment is easy. Completing the test only needs pressing a button, very convenient for on-site technicians to use.
Functions of message visualization and message analysis.
Very flexible
Test software adopts module design, which is customized.
Added drive library and software function modules to expand new test cases.
Accurate and reliable
Strictly comply to technical standards to operate tests.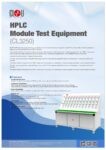 Fill the form and get this beautiful PDF link instantly to your email-inbox.
Title: CL3250_V1_EN
file size: 175.76 KB
published: 16 Jun, 2023