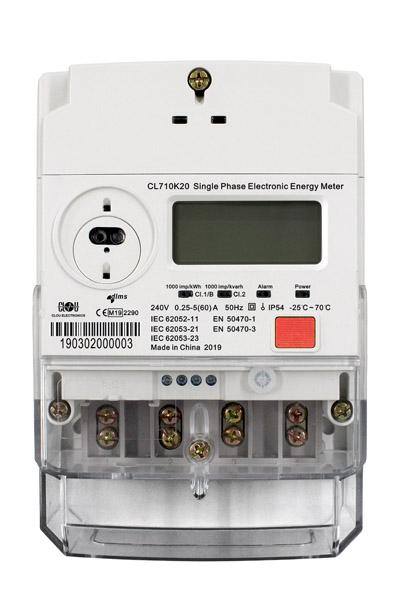 Introducing the CL710K20 single phase smart meter – the ultimate solution for residential applications in single phase two wire grids! With advanced tamper detection and power quality monitoring, this meter sets new standards for robustness and reliability in India and other parts of the world.
IS 16444
IS 15969 part 2
IS 15884
CBIP 325
IEC 62052-11
IEC 62053-21
IEC 62053-23
EN 50470-1
EN 50470-3
CE MID approved
type test no.1577-19
DLMS compliant
STS payment remote access
The CL710K20 is a direct connected, electronic single-phase two-wire, two-element energy meter with accuracy active: class 1 / B. Reactive measurement is optional with class 2.
Tamper protection
Ultrasonic welding, the meter can't be opened without breaking the structure
Cover open detection for terminal, module and face cover
Magnetic tamper detection and penalty measurement/billing
Immunity to high voltage sparks up to 35 kV
Detection of ac/dc chopping
Missing neutral detection and measurement
Detection of wire connection tampers
Event recording and reporting
Mechanical protection with seals for main cover, terminal cover, communication module, battery and optical port
Data Security
3 level security management for up to 6 clients
AES-GCM-128 encryption and AES-128 key wrap
Demand Control
Latching relay with contacts for phase and neutral.
More than 100,000 switching cycles
Overload control
Over-current control
Relay can be controlled manually and by remote
Measurement and Power Quality
Measurement in phase and in neutral
Measurement of active and apparent power/energy
Net energy metering (NEM) mode
Import (forward) only mode
Over-voltage recording
Under-voltage recording
30 minutes load profile for 40 days or
15 minutes load profile for 20 days
Time of use (TOU) up to 8 rates, daily, weekly, seasonal and special
Advanced Metering Infrastructure (AMI) capabilities
exchangeable communication modules (plug & play)
self-register (auto-register) function
self-healing function
high compatibility with 3rd party systems
DLMS/COSEM compliance
STS payment mode can be set in the meter, the tokens are generated with PRISM security modules and submitted by the AMI system
The firmware can be upgraded locally or by remote. The meter has a sealable battery. A extra battery supports the real time clock (RTC). The CL710K20 has a modular design without any internal wiring. The display can be read without power.
Specifications
ITEM
PARAMETER
Nominal voltage Un
wide range from 110 V to 240 V
Current Ib (Imax)
5 (30) A, 5 (40) A, 5 (60) A, 10 (60) A
other combinations on request
Frequency
50 Hz, 60 Hz
Accuracy, active
class B, class 1
Accuracy, reactive (optional function)
class 2
Ingress protection
IP54
operating temperature
-25 °C to +70 °C
relative humidity
≤ 95 %
Local interfaces
Optical Port, sealable
optional: RS232, BLE (Bluetooth Low Energy)
Interfaces for remote access
radio frequency (RF mesh), GPRS, G3, G4, NB-IoT
Dimensions
175 mm x 115 mm x 60 mm
Weight
650 g
---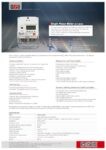 Fill the form and get this beautiful PDF link instantly to your email-inbox.
Title: CL710K20_V3_EN
file size: 203.79 KB
published: 16 Jun, 2023