Our PCS (power conversion systems) are multi-functional inverter/converter devices. They are offering bidirectional power conversions (AC->DC and DC->AC) for electrical energy storage, together with optional modules for on-grid and off-grid usage in commercial and industrial applications. The switching time for reversing the power flow is less than 100 ms, respective 5 cycles.
We have a wide range of different models, matching with our battery storage systems or your existing storage up to 3.6 MW.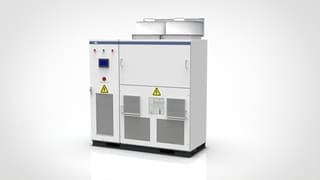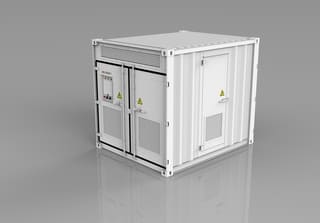 Specifications
Item
Parameter
DC voltage range
700 V to 1500 V
Maximum DC current
1.9 kA to 3.9 kA
Maximum DC power
1.3 MW to 3.6 MW
DC inputs
optional two inputs
Nominal AC power
1.2 MVA to 3.2 MVA
Nominal AC voltage
480 V ±15 %
550 V ±15 %
630 V ±15 %
Nominal grid frequency
50 Hz ±10 %
60 Hz ±10 %
Power factor
> 0.99
Maximum efficiency
98.8 %
Total Harmonic Distorsion (THD)
AC < 3 % (nominal power)
DC < 0.5 % (nominal power)
Ingress protection
IP20 to IP54
DC input protection
load switch and fuse
AC output protection
circuit breaker
Overload capability
120 % for 10 seconds
Phases
3
Adjustable reactive power
100 % inductive to 100 % capacitive
Protection
over-voltage
ground fault
insulation
overheat
Communication
RS-485, CAN, Ethernet , optical fiber
Weight
1.6 metric tons to 6 metric tons
Ambient operating temperature
-30°C to +60°C (derating, if >45°C)
Cooling
temperature controlled air cooling
Noise emission
< 70 dB(A)
Compliant
GBT 34120-2017
UL 1741
UL 1741SA
IEEE 1547
The configuration of the power conversion system consists of several parameters. Contact us for more information matching to your special requirements.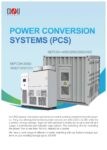 Fill the form and get this beautiful PDF link instantly to your email-inbox.
Title: Power Conversion Systems (PCS)_V1_EN
file size: 305.09 KB
published: 16 Jun, 2023