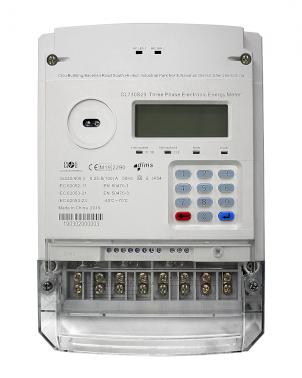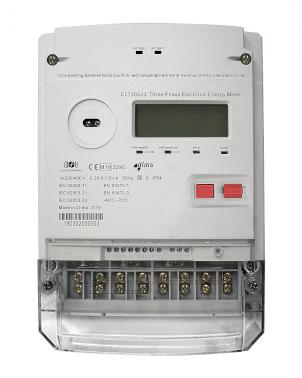 The CL730S23 is a static three-phase revenue meter designed for residential and small commercial consumers.
The communication module is exchangeable, supporting power-line carrier (PLC), radio frequency (RF) and 2G/3G/4G. The communication with the meter is DLMS compliant. The meter CL730S23 can be used with or without communication module.
| | |
| --- | --- |
| | EN 50470-3 |
| | IEC 62053-21 |
| | IEC 62053-23 |
| | CE MID approved |
| | DLMS compliant |
| | Kema approved |
Functions
Active energy measurement
Reactive energy measurement
Apparent energy measurement
Real time clock
Multi tariff (TOU, TOD, Step tariff)
Replaceable battery
Pre/Postpaid mode switchable
Alarm notification (Push)
AMI ready
Remote firmware update
LCD, read without power
Display scroll button or STS keypad (optional)
THD and harmonic measurement (optional)
Electrical pulse output (optional)
Immunity to high voltage sparks up to 35 kV (optional)
Tamper protection
Terminal cover open detection
Face cover open detection
Reverse current detection
Magnetic tamper
Event logging
Disconnect on tamper
Ultrasonic welding (optional)
Item
Parameter
Nominal voltage (Un)
3 x 220/380 V to 3 x 240/415 V
Voltage range for operation
0.7 Un to 1.3 Un
Nominal frequency
50 Hz, 60 Hz
Nominal current (In)
5 A
Maximum current
60 A, 80 A, 100 A
Display
LCD
Operating temperature
-25 °C to +70 °C
Humidity
< 95 %
Accuracy class
Active energy class 1,
Reactive energy class 2
Ingress protection
IP54
Communication
Infrared port, RS-485, optional exchangeable modules for PLC, RF, and GPRS/3G/4G
Dimensions
232 mm x 164 mm x 74 mm
Connection type
BS, symmetrical
---
Fill the form and get this beautiful PDF link instantly to your email-inbox.
Title: CL730S23_V3_EN
file size: 323.02 KB
published: 21 Feb, 2022
Editor's note: This article was originally published in December 2019 and has been updated for comprehensiveness.