CLOU intelligent warehouse project originated from our meter automatic inspection system. At the beginning, we used this system to test meters that provided to local power company like State Grid and China Southern Power Grid. Then we met the need of the market and have shifted to warehouse automation.
CLOU Intelligence Industry
CLOU Intelligent Industry is a wholly-owned subsidiary of Shenzhen CLOU Electronics.
It is a professional provider of integrated solutions for intelligent logistics, intelligent manufacturing and information systems.
With more than ten years of technology precipitation and experience in the field of warehousing and logistics, CLOU Intelligence Industry has formed a complete solution process system to assist customers to handle with warehousing and logistics construction of production lines and factories from the aspects of consulting planning, design and development, implementation and installation, after-sales operation and maintenance.
Handling Expert –Automated Guided Vehicle (AGV)
It adopts advanced laser SLAM navigation technology and dispatching system that is independently developed by us CLOU.
With a double rudder four-way walking mode, it can take a flexible round-trip driving in narrow lanes, workshops and warehouses.

Its multiple safety protection function ensures the safety of people and goods. Automatic docking of front and rear processes realizes unmanned operation. It is the best choice to improve handling efficiency and save labor cost.
Scheduling Master–Remote Control System (RCS)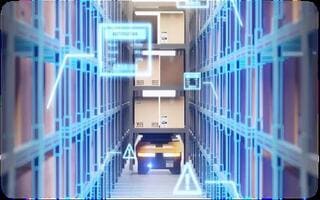 CLOU Intelligence Industry RCS dispatching system features the functions of path planning, safety obstacle avoidance, dynamic tracking tasks, real-time map monitoring and exception handling and recovery.
It is applicable to management of various logistics handling processes and tasks, as well as multi robot scheduling management.

It can be seamlessly integrated with Warehouse Management System (WMS), Warehouse Control System (WCS), Manufacturing Execution System (MES system), intelligent storage system and production line system to make the storage logistics management more efficient, intelligent and flexible.
Smart Empowerment –Digital Twin System
The Digital Twin System builds an expression system from business level logic to interface presentation, combining data, algorithm and decision analysis.
It realizes real-time interaction and makes the complex warehousing and logistics process visible and tangible.
Supporting the visual management of warehouse facilities and equipment, material storage, production linkage, equipment alarm, operation and maintenance, it achieves the goal of integrated production monitoring and fine management.
Conclusion
CLOU is an integrated energy services provider, involving not only in meter services, energy storage system and intelligent industry, but also in other electric and energy business. You can see our showroom for more details.
If you have any question about this topic, leave a comment or contact us.
Thank you for your reading and best wishes.
Editor's note: This article was originally published in October 2021 and has been updated for comprehensiveness.