Electricity is a critical commodity for modern society, and its transmission and distribution rely on high voltage systems. High voltage engineering deals with the study, application, and design of insulation, electromagnetic fields, and electrical transients in high voltage systems. High voltage systems pose significant hazards to both personnel and equipment, and therefore, ensuring their safety is essential. This article delves into the practicalities behind ensuring safe high voltage electricity transmission.
Overview
High voltage engineering is defined as the study, design, and application of equipment, techniques, and devices that deal with voltages above 1000 volts AC or 1500 volts DC. Medium voltage ranges between 1 kV and 35 kV. High voltage electricity transmission systems, which are generally classified as systems that operate above 35 kV (IEC 60038), transmit electrical power over long distances, making it necessary to increase the voltage to reduce transmission losses. However, high voltages pose significant risks to personnel and equipment, such as electric shock, arcing, and insulation failure. Therefore, ensuring the safety of high voltage systems requires a multipronged approach that encompasses design, installation, maintenance, and human factors.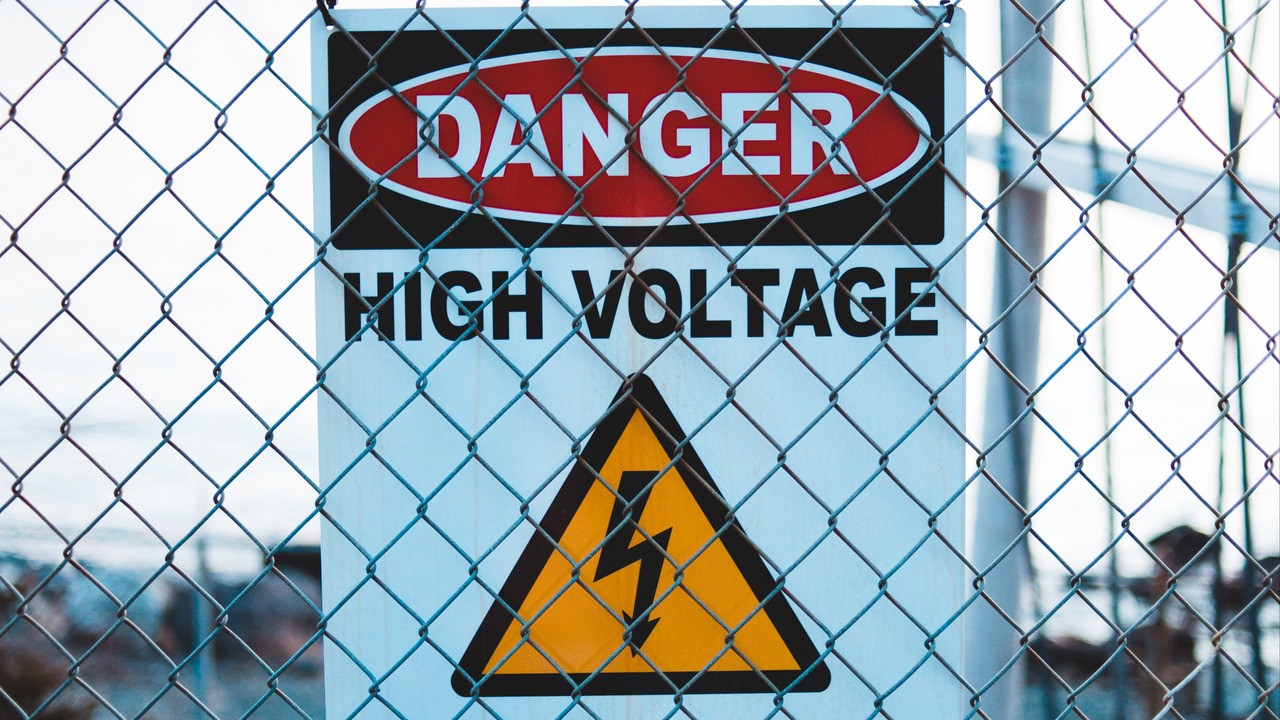 Design
Designing safe high voltage systems requires an understanding of the electromagnetic properties of materials and the physics behind high voltage transmission. It is essential to select the appropriate insulation materials to ensure that the voltage gradient at the surface of the insulation does not exceed the material's breakdown strength. Insulation can be in the form of solid, liquid, or gas and must be designed to prevent arcing, flashover, and corona discharges.
Designing the power transmission lines must consider the distance between the conductors and the effects of electromagnetic fields generated by the power lines. Magnetic fields generate electric fields that can induce current in nearby conductive materials and even living organisms, causing hazards to personnel and equipment. Shielding and earthing systems can be designed to minimize the effects of electromagnetic fields and reduce their impact on personnel and equipment.
Installation
Installation of high voltage systems involves the physical installation of equipment and wiring to operationalize the design. Safe installations require adherence to design specifications, codes, and standards, such as the Institute of Electrical and Electronics Engineers (IEEE) standard 80 for grounding systems and the National Electrical Safety Code (NESC) for safety procedures, respective local regulations.
Before installation, equipment and wiring must undergo testing to ensure that they meet safety and performance requirements. Testing includes the measurement of insulation resistance, continuity, polarity, and equipment function. Moreover, high voltage systems must undergo commissioning tests to ensure that they operate as intended and comply with safety regulations.
Maintenance
High voltage systems require regular maintenance to ensure safe and efficient operation. Maintenance involves inspection, testing, and repair of equipment, and it is essential to perform maintenance tasks from a safe distance. High voltage maintenance personnel are required to wear appropriate protective equipment, such as safety suits and gloves, to protect them from the hazards associated with high voltage systems.
Regularly scheduled maintenance tasks include visual inspection, cleaning, and lubrication. Moreover, periodic testing is carried out to measure insulation resistance, continuity, and function. Testing helps identify potential faults that could lead to equipment failure and endanger personnel.
Human factors
Human factors play a vital role in ensuring the safety of high voltage systems. Human factors include awareness, training, behaviour, and communication. Persons who work on high voltage systems must be aware of the risks involved and observe safety procedures at all times. Additionally, personnel must receive training to operate high voltage systems and must be proficient in identifying and responding to hazards.
Communication between personnel is critical in ensuring safe operation. Personnel must communicate any unsafe conditions or situations to the relevant authorities to prevent accidents and equipment damage. Safety drills and regular safety meetings are also essential to promote awareness and build a safety culture.
Takeaway
High voltage systems play a critical role in the transmission and distribution of electricity. Safeguarding high voltage systems requires a multipronged approach that encompasses design, installation, maintenance, and human factors. Designing safe high voltage systems involves selecting appropriate insulation materials and mitigating the effects of electromagnetic fields. Installation requires adherence to safety codes, testing, and commissioning, while maintenance involves regular inspection, testing, and repair.
Human factors, such as awareness, training, and communication, are necessary to promote safety. It is vital to ensure that high voltage systems operate safely to prevent accidents and maintain the reliability and stability of power delivery.
CLOU is a trusted manufacturer of top-quality electrical equipment for cable and overhead power grids. Our product line includes high- and low-voltage switchgear sets, intelligent switchgear, and power distribution monitoring and fault location systems, all designed for stable and efficient operation.
When it comes to power distribution solutions, CLOU has the expertise you can trust. Contact our team of experts today and let us help you find the perfect solutions to meet your power distribution needs.