The question is: "When?"
Update Nov.30, 2021
Finally, we have the answer. The exhibition starts today.
We leave this article inside for historical documentation.

You as frequent visitor of the annual Metering Event might remember the last years announcement in Paris.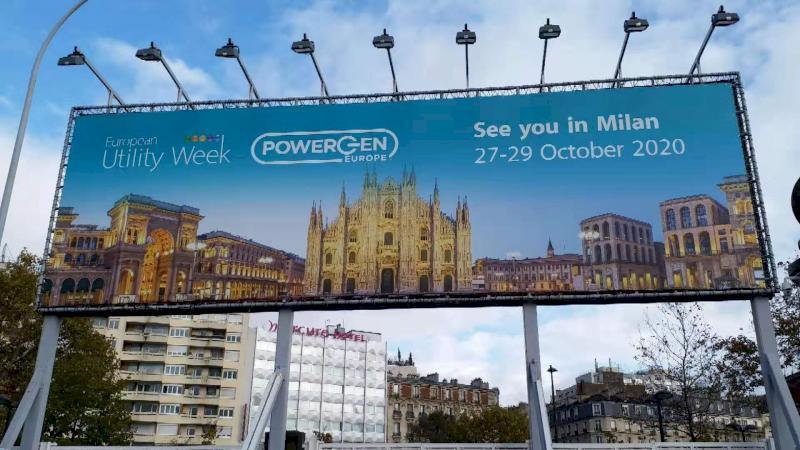 Since then many things have changed. Due to the COVID-19 pandemic and related travel restrictions the this years event is postponed to next year.
To make the things more complicated, the event has again changed the name. About twenty years ago, we went to the Metering International conference and exhibition. Then It was the Utility Week.
After some years it was Utility Week and POWERGEN (see photo).

Now, the new name is Enlit Europe. The organisers will please excuse me when I have forgotten some names. The rescheduled date is 30 November through to 2 December 2021.
What happens in the meantime?
I don't want to say that this exhibition format is obsolete, though it was more or less self-entertainment in the last years. Due to the pandemic situation all companies have to reconsider their marketing and customer information policies.
Our CLOUGLOBAL team has set up several measures to keep close contact with our existing- and future customers.

We have set up a new website concept with focus on visitor interaction
We are running an educational blog with various animations
like interactive vector diagram
We are providing frequently updated metering news with our email info-system.
You can subscribe at the bottom of this page.
We are doing much more video conferences as many customers are already used to this source of information.
We have developed and introduced new products related to COVID-19
especially our face recognition system is already widely installed in the field
Still and always our focus is not on "We" but on "You"
So please contact us for any metering related question. Please understand that we answer emails having company domains with priority.
In any case, See you in Milan :)
Thank you for reading. If you want to share your thoughts you can also put a comment in the field below.
Editor's note: This article was originally published in June 2020 and has been updated for comprehensiveness.