This post deals only with the aspects related to energy metering.
Transient voltages are short time surges in the a.c. power supply. They typically last a few milliseconds and the voltage can reach several thousand volt. A transient is by definition shorter than half cycle.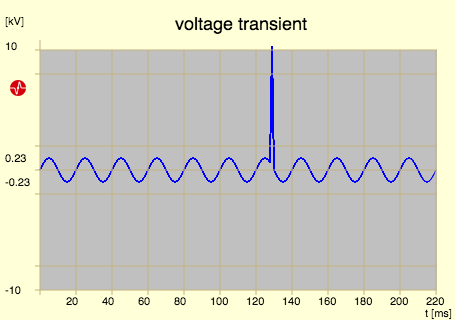 Causes for transients
There are two major groups of transient voltages.
Power system switching transients
Power system switching transients can be separated into transients associated with:
major power system switching disturbances, like capacitor bank switching
minor local switching activity or load changes in the power distribution system
resonating thyristors circuits
short circuits
arcing faults to the grounding system
Lightning transients
direct lightning stroke
induction due to an indirect lightning stroke
nearby lightning-to-earth discharge
Energy meters can not detect a voltage transient. The event is too short. Most power quality analysers are designed to capture surges in voltage.
The energy meters are protected to surge effects according to IEC61000-4-5.
For certain regions additional external arresters can be added during meter installation.
Editor's note: This article was originally published in January 2020 and has been updated for comprehensiveness.