If you are in the UK, your car is most likely running on petrol. There are actually around 300k EV-cars registered in the country.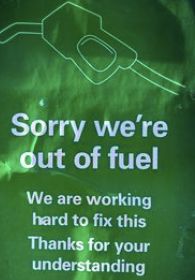 If you want to refill your car, you'll see these days most likely a sign like this.
Depending on the information source, it's either a real fuel shortage or it is related to a shortage of truck drivers.
The official government statement:
Britain is not short of fuel.
Anyway, when you have no gasoline the statement is meaningless for you.

Our core competence is electrical energy services, so what happens when you have an electric vehicle (EV)?
Some interesting news have been recently published in the Times. E-chargers can be remotely disconnected to prevent blackouts.
Electric car charging points in domestic homes will be preset to switch off for nine hours each weekday at times of peak demand because ministers fear blackouts on the National Grid.
The regulations come into force in May 2022. All new chargers at home or workplace will be automatically disconnected from 8am to 11am and 4pm to 10pm. Public chargers will be exempt.
It was a relative short notice but with huge impact, because the government also takes the option for a randomized delay on top of the fixed outage times.
With 300,000 cars using electricity now it's not very tempting to switch. The UK planning predicts to have 30 million EVs on the road by year 2030.
For the wall-box charger communication methods, I haven't seen any specifications yet. CLOU is producing wall-boxes for the Chinese domestic market only, here I'm not aware of such regulations.
Visit our showroom to see some more charging solutions.
Conclusion
The domestic privacy is invaded. Maybe the British saying My Home is my Castle in no longer valid. Similar discussions have been there in Germany, but due to the election they are postponed.
Since Samsung can disconnect your TV, it seems we'll get slowly used to tutelage.
Thank you for reading.
You can leave a comment once your power supply is restored.