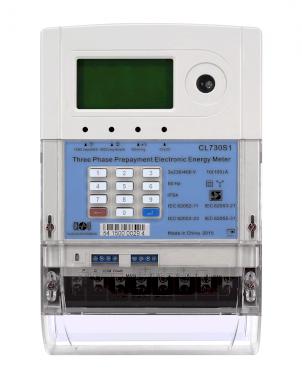 Introducing the CL730S1: a versatile, multi-function three-phase smart meter designed for precise electrical energy measurement in both commercial and residential settings. Equipped with exchangeable communication modules, this smart meter offers flexibility and adaptability to suit your specific needs.
With its compatibility for STS prepayment systems, the CL730S1 empowers utility providers to efficiently manage energy usage and billing. Enhancing user experience, the meter can seamlessly communicate with an optional external keypad, known as the user interface unit (UIU), through various methods including power-line carrier (PLC), radio frequency (RF), or cable connection.
Experience the accuracy, convenience, and reliability of the CL730S1 smart meter as it revolutionizes energy measurement for both commercial and residential customers.
| | |
| --- | --- |
| | IEC 62053-21 |
| | IEC 62053-23 |
| | SICEM type test certified |
| | STS certified |
| | DLMS compliant |
Together with our ClouESP AMI software solution this meter combines all advantages of STS payment together with full information about the smart-meter grid.
Functions
Active energy measurement
Reactive energy measurement
Real time clock
Multi tariff (TOU, TOD, Step tariff)
Replaceable battery
Pre/Postpaid mode switchable
Alarm notification
AMI ready
Tamper protection
Terminal cover open detection
Face cover open detection
Neutral current comparison
Magnetic tamper detection (optional)
Event logging
Disconnect on tamper
Item
Parameter
Nominal voltage (Un)
3 x 220/380 V,
3 x 230/400 V,
3 x 240/415 V
Voltage range for operation
0.7 Un to 1.3 Un
Nominal frequency
50 Hz, 60 Hz
Nominal current (In)
5 A
Maximum current
60 A, 80 A, 100 A
Display
LCD
Operating temperature
-25 °C to +70 °C
Humidity
< 95 %
Accuracy class
Active energy class 1
Reactive energy class 2
Ingress protection
IP54
Communication
Infrared port, RS-485, optional virtual token carrier
Dimensions
226 mm x 170 mm x 73 mm
Connection type
BS, symmetrical
---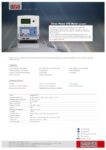 Fill the form and get this beautiful PDF link instantly to your email-inbox.
Title: CL730S1_V4_EN
file size: 160.89 KB
published: 16 Jun, 2023