A user interface unit (UIU) is a remote access terminal for STS prepayment meters. The device is placed inside the user's premises, while the energy meter is mounted outside and mostly not direct accessible. Some meter manufacturers are using the term customer interface unit (CIU). The functions are the same.
The main purpose is to charge the meter with credit. By various short-codes, it's possible to do many kinds of queries for meter status and consumption. The short codes are not unified, so refer to your user manual for operation.
UIUs are paired with the energy meter when leaving our factory. Depending on the utility order, CLOU interface units are communicating with the meter by radio frequency (RF), power line (PLC) or by wired RS-485.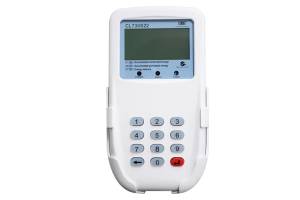 If the UIU is not communicating with the energy meter, you can pair it again by typing 1593570 and the 11 or 13 digit meter number, then press the enter key (red or blue). The meter number is printed on the meter and on your customer card, which you use to buy credit.
After successful pairing, the display will show OK.
Note: This is only working for CLOU energy meters.
There can also be other reasons for a communication fail. If the UIU is connected by power line and you are disconnected, batteries need to be inserted in the UIU to recharge the meter or query the status. If this meter is in tamper mode, a recharge is impossible before clearing the tamper.
Editor's note: This article was originally published in August 2020 and has been updated for comprehensiveness.